The Hinsdale Chorale
Hinsdale Chorale is a non-profit and educational organization comprised of dedicated professional and amateur singers led by a professional director. The group performs formally twice each year as well as several special appearances for the Hinsdale community. The Holiday show has traditionally been the most extensive performance, often highlighted  by orchestral accompaniment of solo and choral selections and often including an audience sing-along. The second formal show takes place in the spring and has provided the opportunity for us to extend the range of music selections. The group also supports the Memorial Day services at Memorial Hall with patriotic selections, and participates in Hinsdale's annual Christmas Walk featuring holiday favorites.
Hinsdale Chorale 2016 Holiday Concert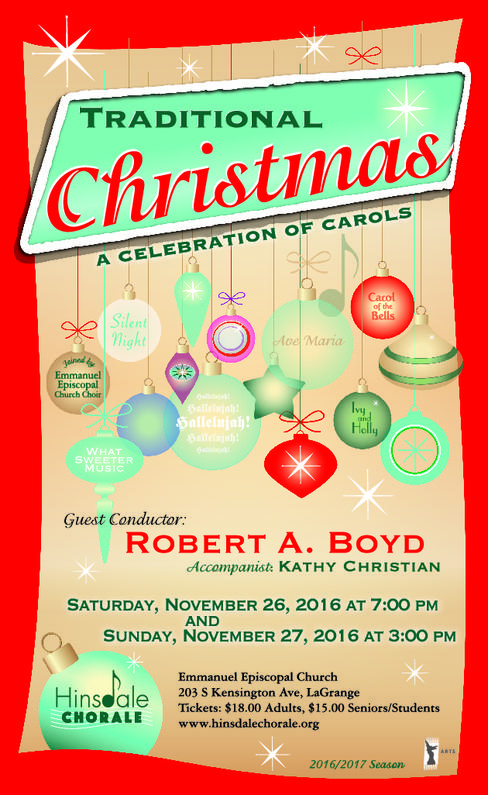 Hinsdale Chorale will perform "Traditional Christmas, A Celebration of Carols," the group's annual winter concert, on Saturday, Nov. 26, at 7 p.m., and Sunday, Nov. 27, at 3:00 p.m., at Emmanuel Episcopal Church of LaGrange, 203 S. Kensington in LaGrange. The concert is presented under the direction of Guest Conductor Robert A. Boyd and accompanied by Kathy Christian. Joining the Chorale for portions of the concert will be members of the Emmanuel Episcopal Church choir.
"Hinsdale Chorale is thrilled to have Bob Boyd as our guest conductor this holiday season," said Board President Kristi Freitager. "We knew he would relish directing at Emmanuel, where he has enjoyed countless past performances with Lyons Township High School choirs and Madrigals. And given his phenomenal reputation leading choral and chamber groups in the area for more than 40 years, and his clinician work around the country, we couldn't be happier having him at the helm for these special performances."
Read more…
We would like to thank our sponsors: